President's welcome
Welcome to the Congress 2022 website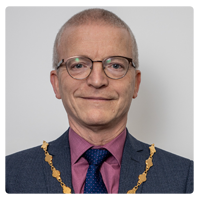 After what's been the most difficult year many of us have ever experienced, we all need something to look forward to. I'm delighted to announce that rather than cancel our Congress, originally planned for this September, we've decided to reschedule it to Monday 14th - Thursday 17th March 2022.
I'm conscious this means a longer interval between events than usual, but what makes Congress such a valuable and memorable part of our year is being together in one place. By giving ourselves an extra six months, I believe we have every chance of being able to meet together safely, and gain the maximum professional and personal benefit that you expect from Congress.
Our 2022 Congress will also be an opportunity to reflect on and celebrate a unique period in our profession's history. As biomedical scientists, we've played a critical role in the testing and diagnosis of COVID-19 and its health effects, while still maintaining our vital work as the UK's laboratory medicine service. After a year like no other we have much to proud of let's make Congress 2022 a celebration of our science and our central role in the delivery of healthcare.
I look forward to seeing you in Birmingham.
Allan Wilson, IBMS President