Greiner Bio-One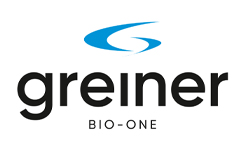 Main sponsor
Greiner Bio-One's product portfolio includes the VACUETTE® Blood Collection System, needle safety devices and the MiniCollect® Capillary Blood Collection range.
Further offerings include a UN3373 compliant Transport Line and Tracie Healthcare Solutions, which combined with Pre-Barcoded Tubes reduces preanalytical errors and improves sample reception and processing within the laboratory.
Our unsurpassed Bioscience range includes products for cryostorage, cell and tissue culture, including 3D and mass cell culture solutions, high throughput screening, high content screening, immunology, microbiology, liquid handling and molecular biology.
All our products are supported by a highly experienced and specialised team dedicated to providing the complete package of support and advice to customers.